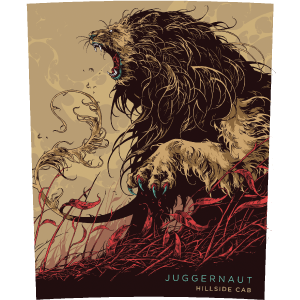 2020 Vintage | 100% Cabernet Sauvignon - Hillside fruit
Grapes grown in challenging conditions, where true grit and determination yield spectacular results.
Determined hillside Cabernet vines struggle to find purchase on steep, rocky slopes, where well-draining soils inspire roots to burrow deep in search of life-sustaining moisture. Steadfast Pinot Noir vines endure, unwavering, in inhospitable conditions, battered by wind and fog, struggling to utilize every precious hour of warmth and sunlight over a long growing season
Juggernaut wines harness the power of nature to produce robust, compelling wines as expressive as the powerful alpha-predators adorning our labels.